Online pharmacy with delivery
Choose a pharmacy to get a coupon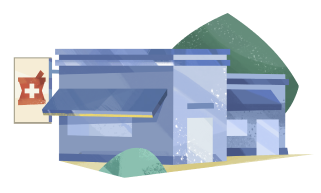 Pay less
with Rx24Scan.
Get your coupon
In Poland there are 2 types of drugstores: private (Apteka) and national (Cefarm). In addition, all medical stores are divided into public (open), departmental and hospital. Poland Drugstores are open from 8.00 am to 7.00 pm, but in the big cities there are duty drugstores, which operate around the clock.
In Poland, nearly 99% of pharmacies have manufacturing departments. Often these medicines are cheaper than their analogues of industrial production. Without a prescription you would be able to get only painkillers (analgesics), preparations against a cold, herbal remedies, homeopathic medicines and dietary supplements. For antibiotics, antibacterial, hormones, contraceptives, and other drugs, a prescription is mandatory. Since April 16, 2015 by the European Commission's decision in Polish drugstores allowed to sell without a prescription to persons over 15 years agents of "emergency" birth control (eg "next day pills"). Previously, these medical products were released in Poland only by a medicinal permission. Search for pharmacological products in Poland should not be a problem. In total, the country has about 13.000 pharmacies located everywhere: starting from trading floors ending with small pharmacies in apartment blocks. The most popular preparations which do not need a prescription, you can buy in a supermarket.
Also a convenient option is buying polish medicines via a global network of Internet. This alternative has many convincing advantages. The first plus is, of course, prices. Often the difference can be up to 50 percent compared to conventional pharmacy. The assortment of electronic pharmacies is often more extensive. Price comparison is an additional advantage for online pharmacies. You don't have to run around the city, to compare prices of tablets, ointments, etc. Questions related to health are rather intimate, and many people have encounter the feeling of discomfort when they needed to loudly explain an apothecary what they were looking for; it becomes doubly uncomfortable when there is a curious queue around. Ordering online is completely confidential.
Using Poland Internet drugstores, you on your own experience may be convinced of amenities and prospects of this method of shopping. Our service will provide you with useful information on the most popular Polish Internet portals that sell medicines.
Poland Pharmacies
| | |
| --- | --- |
| Pharmacy | Rating |
| RX2040.COM | ★★★★★ 5/5 |
| RXShipFree.COM | ★★★★★ 5/5 |
| TheWorldsPharma.COM | ★★★★★ 5/5 |
| LightPharmacyPills.COM | ★★★★★ 5/5 |
Fill up an order form form Poland online pharmacy. Once you found a reputable online pharmacy form Poland, navigate to the order page. You may be required to submit a scanned version of your prescription and supply your credit card number. On the other hand, you may be required to register with the online pharmacy form Poland if you need remote consultation prior to ordering. Pay special attention in filling up your order form regarding product quantity, dosage, and other pertinent information about your order. However, refrain from giving your credit card number unless you are sure that the site will protect your personal information. A confidentiality and privacy policy is a good place to start reading.
Search for a reputable online pharmacy form Poland. There are several qualities that make an online pharmacy form Poland, reputable. These include selling quality drugs, providing accurate product information, having strict confidentiality and privacy policies. If in doubt, it is better to opt for an Poland online pharmacy of a major pharmaceutical firm or the online counterpart of your neighborhood drug store.
Online pharmacies form Poland provide tracking numbers for your orders. Keep these on hand and log in regularly at the Poland online pharmacy to find out the status of your order. For added information, check the websites delivery policy. If you have any question about your order, contact the online pharmacy form Poland through email, by phone, or by chat support.